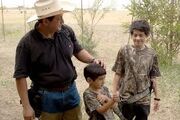 Tom Perez

Name
Tom Perez
Hometown
Houston, Texas
Prepper Type
Prepper of Terrorism
Known As
Builder of "The Alamo"
Episode
The Time of Reckoning
Cataclysmic Disaster
Terrorist Attacks & Dirty Bomb Attacks
Tom Perez

[

]
Dr. Tom Perez is a retired chiropractor with a wife, Monica, and 3 kids. He is preparing for a dirty bomb attack by terrorist attacks. He is most famous for crying, puking, and rolling on the floor after hearing a gunshot.
The Alamo
[
]
The Alamo is Tom's compound which is a 6-hour drive from his house in Houston to it. He has one route & three back-up routes for going there. He and his family normally have a bug-out drill heading there for at least twice a month. He spent 10 years and more than 2 million dollars on building two cinder block houses as his compound. It is equip with solid-steel bars,.alarms, and bullet-proof walls for security. It also has barred-wire fencing and the place is surrounded by the Chihuahuan Desert. Tom is also ready for anyone who dare test his line of defenses.
Chihuahuan Desert
[
]
The Chihuahuan Desert (say chiwawan desert) is a harsh terrain found in Texas. It is known to be the largest desert in North America. It is difficult for peole to travel around the area especially by foot. 
Deliberate Entry
[
]
It is a strategy that SWAT teams use. It is used when the location of existing or possible threat/s is/are unknown. Dr. Tom Perez use this strategy by himself before the family enters the house, to make sure that there's no threats staying in their compound like thiefs or criminals.
Aquifers
[
]
They are an underground water source, useful to use in places like deserts. They purify the underground water naturally by trapping segments & bacteria. It can be an infinite supply and useful for preppers who stay in certain deserts (so the desert must have adequate rainfall to in sure property water supply by the aquifers). You must make sure to get water rights on your property as part of your prepper plan, like Tom.