Kellene Bishop, a self-described foodie, amazes her friends by whipping up a dinner party entirely from shelf-stable foods,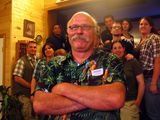 proving she won't sacrifice the finer things in a financial disaster.
Summary

[

]
Preppers

[

]
David Sarti- Prepping for an EMP that will take out the US transportion and power grids.
Kellene Bishop-Prepping for the Total Collapse of the Financial System
Dennis Evers-Prepping for Global chaos caused by Hyperinflation.
Expert Rating

[

]