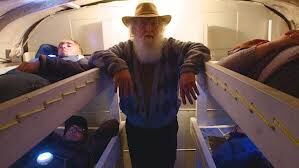 Bruce Beach

Name
Bruce Beach
Hometown
Morning's Mills
Prepper Type
Haven Builder
Known As
Builder of "Ark Two"
Episode
It's Gonna Get Worse
Cataclysmic Disaster
Nuclear Fallout from Nuclear War
Bruce Beach

[

]
Bruce Beach, a retired researcher who lives in the village of Horning's Mills, is a prepper who is preparing for a nuclear war by building a underground shelter for children and teens to stay & survive throughout the fallout. This "underground orphanage" was named   "Ark Two" based from the story of "Noah's Ark". It was built so it can virtually impenetrable to anything short of a direct nuclear strike. He done this so when disaster strikes, the children and teens will not only survive, but also be able to rebuild civilization in the future.
Ark Two
[
]
'Ark Two'' is an underground shelter made out of '''42 school buses, linked together and buried under 18 inches of concrete and 14 feet of Earth. These school buses are actually favorable to preppers, not just because their cheap (especially when they're second-hand), but also because they can support one and half times their weight, making them a perfect bugout vehicles and even perfect mobile homes. Ark Two was built in the 1980's (during Cold War ). It is powered by redundant diesel generators (along with 3-month supply of diesel fuel), and equipped with a decontamination room, chapel, radio based communication center, two commercial kitchens, full plumbing, bunker beds good for 2,500 refugees, lighting, and a ventilation system.
Appearance in Media
[
]
National Geograhic's: Doomsday Preppers (Episode 8 "It's Gonna Get Worse")
Global Television Network's: 16:9
Books Written by Bruce Beach
[
]
Society After Doomsday
TRIAD Individual Networking: Preparedness For Disastrous Times
Contact
[
]
Bruce Beaches official website is webpal.org
A wikia mirror his website is being started at ark2.wikia.com
To receive his newsletter one can enroll here.
Videos & Photos
[
]
 Quotes
[
]
"Everyone is welcome here, regardless of religion, race nationality, political views..."
"We're going to say to people: 'Well, we have room for your children but we don't have room for you.' That's the nature of life... this is the lifeboat."